Windmill Hill Day Two!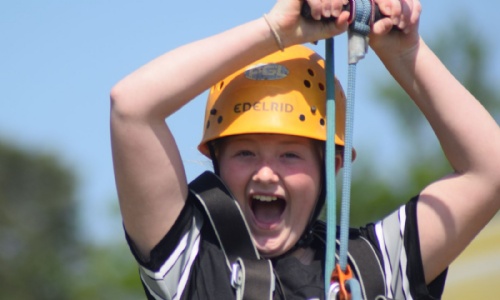 Fun activities in the sunshine!
We woke up to beautiful sunshine and made our way out for breakfast. Again, there was so much to choose from - we could have cooked breakfast or cereal - and plenty of toast! After breakfast we took part in our first activities. We did canoeing, zip wiring, aeroball and the trapeze. They were great, if a little scary at times!
We stopped for lunch, which was jacket potatoes and vegan chilli, before heading back out to complete more activities including fencing and abseiling. The time whizzed by because we were having so much fun! Before long, it was time for dinner! It was delicious again - this time we had lasagne or chicken nuggets and chocolate muffins for pudding.
After dinner we played a game called 'Ambush' where we had to capture a team's flag. It was lots of fun and our PGL leaders Harry and Rorey made sure we were worn out before lights out! We are definitely feeling more tired tonight but hopefully we will have enough energy for our activities tomorrow! We are really looking forward to raft building even though we will end up wet!